Year Five Notice Board
Our Year 5 reading book in is: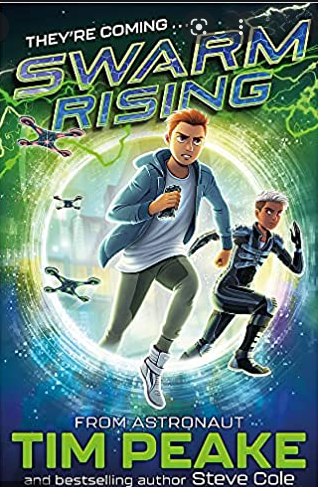 Notices:
Remember to bring in recycling for your DT projects!
This half term we are learning about Earth and Space in science. As part of their learning the children have been given a moon diary to complete. Each night they need to record what the moon looks like. This involves using their observational skills, a key aspect of working scientifically. These diaries will be checked each week, during science on a Tuesday, and will be stuck in their science books once complete. Mrs Gill.
Glue Sticks
Please ensure your child has a glue stick with them for school every day.
PE

Updated PE days:
PE days for Chestnut are Monday and Friday. PE days for Sycamore are Monday and Wednesday. Children to come to school in PE kit as there will be no changing in school.
Word Aware
Our topic this term is Awesome Earth
Please see the attached vocabulary list for our new topic. This list is part of an initiative called Word Aware that we are using in school. We thought it would be helpful to share this list so that you can use some of these words at home when discussing the topic. If your child speaks a different language at home it would be helpful to discuss and translate these words using your home language.
Word aware grid Awesome Earth
Spring learning tree
Knowledge Organisers
Further information about the learning in history and geography is available on our new Knowledge Organisers. These are available on the Chestnut and Sycamore Google Classrooms in the Classwork tab.
E-Safety
Routines
Monday

Homework and reading records due

Spelling dictation

PE Sycamore

PE Chestnut

Tuesday

Timestable challenge

Wednesday

Thursday

PE Chestnut

Friday

PE Sycamore
Calendar/ Key dates
27th January Science museum - Parent mail sent
Parents Evening: Parent mail sent - Wednesday 2nd and Tuesday 8th Febuary.
Home Learning
Home learning will be set via google classroom and using Grammar, Punctuation and Spelling CGP books. For further information about Home Learning and ideas on how to support your child please click here.
Reading

Daily (at least 20 mins)

Reading Record books must be brought into school on a Monday to be checked. We encourage children to write a reflective comment when they have read. Children are encouraged to read aloud often to an adult and discuss what they have read. Children should share their opinions, inferences and/or predictions about what they read. Children are able to change their reading book whenever they need to.

Grammar & Punctuation

Set on Monday and due back on Monday.

Spelling

Set on Monday and tested through dictation the following Monday.

The word-lists for years 3 and 4 and years 5 and 6 are a mixture of words learners frequently use in their writing and those which are often misspelled. Some of the listed words may be thought of as quite challenging, however with enough practise and resilience we know you will get the hang of them!

Maths

Set on

Monday

and due back on

Monday

.

Times Tables

Please find below two links to games online for times tables practise. An alternative way for children to practise their speed and accuracy! There are options to practise a particular number or to have mixed questions, enjoy!

Times tables speed test: https://www.timestables.co.uk/speed-test/

Hit the button: https://www.topmarks.co.uk/maths-games/hit-the-button

Times Tables Challenges can be printed here.

Handwriting

Children can practise their handwriting using these resources:

Cursive handwriting sheets to print
Home learning this week:
Maths - Statistics (Line graphs) - bring back on Monday next week
Line graphs sheet and Mymaths - see our Google Classrooms.
English - Commas in a list pages 40 / 41
Spelling - Write sentences to practise your spellings!
Spelling -
Please learn these words and check the meaning of any unknown words in a dictionary before next Monday.
You SHOULD write a sentence for each using correct sentence punctuation.
You can choose one list to learn or can learn more if you would like to.
Please ensure you understand the meaning of each word as they will be used in a spelling dictation.
Spellings -
31.01.22 - Adverbs of possibility and frequency
Learn either list 1 or 2
| | |
| --- | --- |
| List 1 | List 2 |
| certainly | constantly |
| sometimes | definitely |
| never | possibly |
| perhaps | generally |
| probably | probably |
| frequently | infrequently |
| often | seldom |
| normally | occasionally |
| rarely | regularly |
| always | Periodically |
Year 5 Recommended Reading List
| | |
| --- | --- |
| Learning this week: | |
| English | London Eye Mystery /SPaG |
| Maths | Statistics |
| Learning next week: | |
| English | London Eye Mystery /SPaG |
| Maths | Statistics |
French