Year Two Notice Board
Notices
Gardening
Y2 have been outside today planting bulbs for the spring. We also moved the pear tree and cherry tree from the playground to a sunny spot at the front of school - hopefully the trees will be much happier in this new position. We have a new apple tree arriving soon so things are starting to take shape.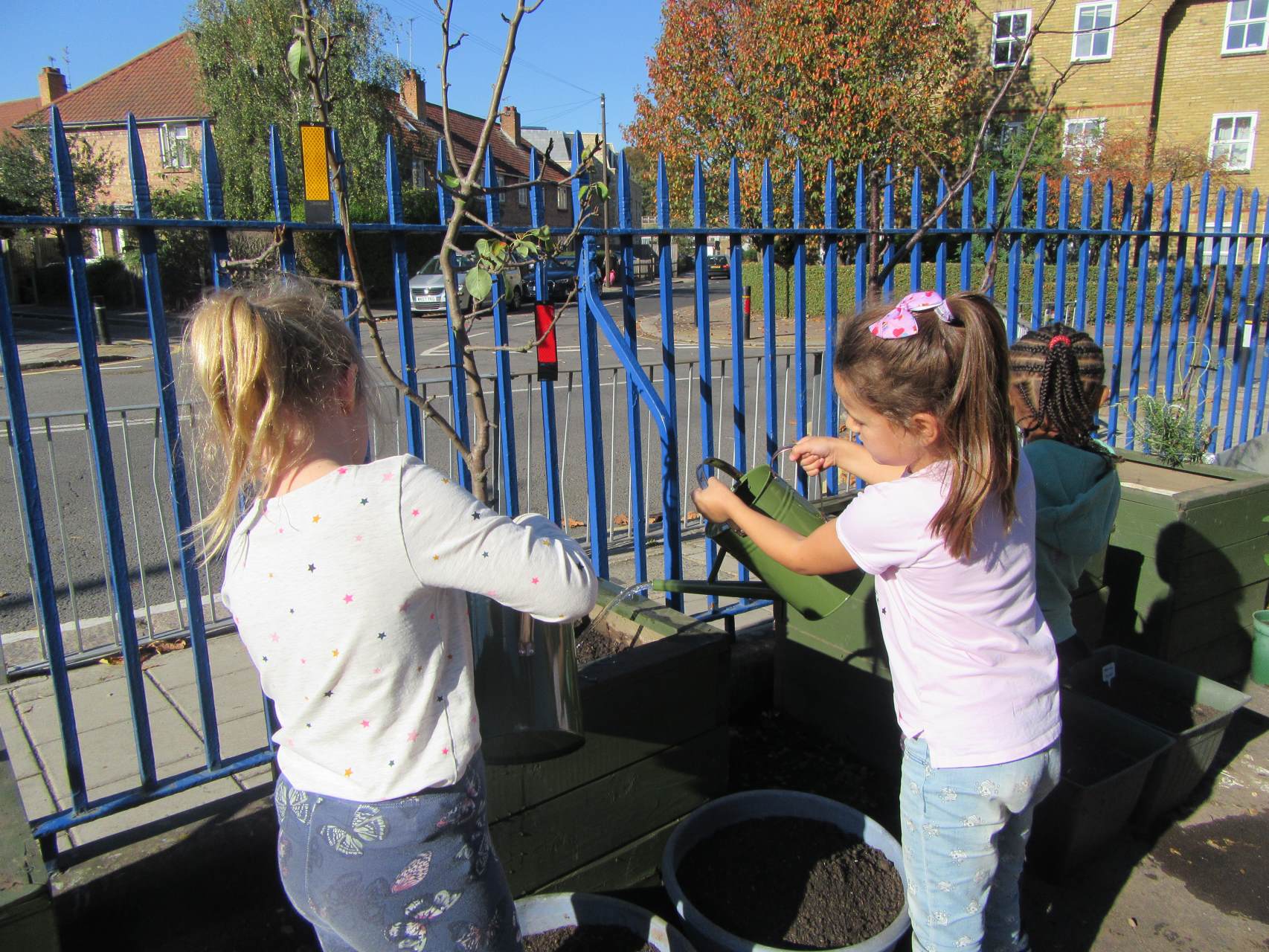 Gymnastics
Ask your child to show you the short gymnastics routine they have been learning in school. The positions are: tuck, pike, roll, front support, tuck and pike. They know to hold each position for the count of three. They also know how to do back support, straddle, arch and dish positions.
Forest School
After half term, Year 2 children will be the first to begin Forest School at Belmont. We will be working outdoors in all weather. Children will need to bring a change of clothes which are suitable for getting messy. They need to be warm and please wear suitable footwear such as wellies or boots.
Wednesday PM - Damsons
Friday PM - Apricots
Further information has been given to the children to take home along with a consent form. Please return this signed to your class teacher by Wednesday 31st October.
Apricots:
Lesley Cargill (Francesca's Mum)
Katayoun Ameri (Ayman's Mum)
Damsons:
Irene Guasch (Jordi's Mum)
Jenda Martin (Hugh's Mum)
Laura Izard (Annabelle's Mum)
Thank you for your support this year!
Calendar/ Key dates
Monday 22nd October to Friday 26th October - Half term
Monday 26th November - INSET day (children not in school)
Letters
Recent and extensive educational research has found that homework for primary aged children has minimal impact unless it reinforces learning and regularly allows children to rehearse and practise skills and facts e.g. times tables and spellings.
Reading
Children are expected to read at home regularly (at least 10 - 15 minutes daily) and to discuss their reading with an adult at home to develop language and comprehension. Reading Records must be brought into school every day. Children are able to change their reading book whenever they need to. Children may also borrow books from the Infant Library. We encourage the children to share their library book with an adult at home as well.
Reading with your child in KS1
Parents often ask for age-appropriate book recommendations. The list below includes many popular books that your child may like. If your child has a particular favourite book/author/series please let us know and we will add it to the list.
Key words/Spelling
In Year 2 there are specific phonetic spelling patterns to learn. In addition to these phonetic spelling patterns there are also common exception words (words that don't follow the phonics rules).
Our weekly spelling words will cover all the Y2 spelling patterns and common exception words during the year.
Please practise reading and writing your spellings. Make sure that you know the meaning of each word. There is a Look, Say, Cover, Write, Check sheet below that you can use to help you. Spellings will be tested through a dictation each week. Spelling words will be added below on a Monday and the dictation will take place the following Monday.
Common exception words Y1 & Y2
This week's spellings:
Over half term, please look at the common exception words on the Y2 list. We will be testing the children on the first ten on Monday 29th October.
1. door
2. floor
3. poor
4. because
5. find
6. kind
7. mind
8. behind
9. child
10.children
Handwriting
Here is a copy of our handwriting guidelines. Belmont follows an adapted version of the Nelson scheme. In Year 2, once individual letter formation is accurate, the children are encouraged to start using cursive/joined up writing during lessons.
Belmont Handwriting Guidelines
Number Facts and Times Tables
You can print your child's times tables challenge to practise at home. All children are starting on Level 1. Year 2 will do the times table challenge every Friday and the children will bring home their challenge sheet to share with you.
Creative Home Learning
Y2 Autumn Term Creative Home Learning
Learning this week:
English
Instructional Writing
Maths
Geometry - 2D & 3D shapes and symmetry
Learning next week:
English
Spooky Poetry
Maths
Measuring length to the nearest cm